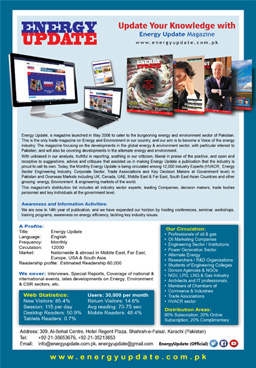 With unbiased in our analysis, truthful in reporting, scathing in our criticism, liberal in praise of the positive, and open and receptive to suggestions, advice and critiques that assisted us in making Energy Update a publication that the industry is proud to call its own. Today, the Monthly Energy Update is being circulated among 12,000 Industry Experts (HVACR, Energy Sector Engineering Industry, Corporate Sector, Trade Associations and Key Decision Makers at Government level) in Pakistan and Overseas Markets including UK, Canada, UAE, Middle East & Far East, South East Asian Countries and other growing energy, Environment & engineering markets of the world.
This magazine's distribution list includes all industry sector experts, leading Companies, decision makers, trade bodies personnel and key individuals at the government level.
Awareness and Information Activities:
We are now in 13th year of publication, and we have expanded our horizon by hosting conferences, seminar, workshops, training programs, awareness on energy efficiency, tackling key industry issues.
Address: 309, Al-Sehat Centre, Hotel Regent Plaza, Shahrah-e-Faisal, Karachi (Pakistan)
A Profile: Title: Energy Update
Language: English
Frequency: Monthly
Circulation: 12000
Market: Nationwide & abroad in Middle East, Far East, Europe & South Asia. Readership profile: Estimated Readership 60,000
Tel: +92-21-35653676, +92-21-35213853
Fax: +92-21-35651797
Email: energyupdate@gmail.com
Website: www.energyupdate.com.pk