Pakistan is blessed with enormous hydropower potential—up to remaining some 40,000MW that has not yet been harnessed effectively and optimally, whereas various hydropower project sites have been identified across the country and their technical and economic feasibility determined. In this context the energy policy in vogue, commonly known as Indicative Generation Capacity Expansion Plan (IGCEP) 2021-2030, has focused on utilising indigenous resources for power generation, and thus developing hydropower on a large scale during the decade, aiming at providing affordable, clean, and renewable energy.
The plan envisages an addition of 13,148MW hydropower capacity at national level by 2030; more than hydropower installed capacity available currently. Existing hydropower generation capacity is cumulative 9,873MW, which has about 29 percent share in overall energy mix of total 34,501MW (National Transmission and Despatch Company-NTDC system), as on May 30, 2021. According to projections given in the IGCEP, installed hydropower capacity will rise to cumulative 14,353MW by the year 2025 resulting in 31 percent share, and to 23,036MW by 2030 resulting in 43 percent share, in total power generation capacity by then from all resources. An appraisal of the plan however reveals that these projections are far from being realistic, and it would not be practically possible to achieve set targets. Various hydropower projects, particularly medium and mega projects, are already behind the schedule.
Currently, 18 small, large, and medium hydropower stations are in operation, besides many mini and other small hydropower stations, with Pakistan Water and Power Development Authority (WAPDA), provincial governments, and Independent Power Producers (IPPs), which are connected to national grid. These are Tarbela including 2nd and 3rd extensions (3,478MW), Tarbela 4th extension (1,410MW), Ghazi Barotha (1,450MW), Mangla (1,000MW), Neelum Jhelum (969MW), Warsak (243MW), Chashma (184MW), Patrind (150MW), Dubair Khwar (130MW), Allai Khwar (121MW), Golen Gol (108MW), Gulpur (102MW), Jinnah (96MW), New Bong (84MW), Malakand-III (81MW), Khan Khwar (72MW), Daral Khwar (37MW), Jagran-I (31MW), and Jhing (14MW).
During current year 2022 (all the years mentioned in the IGCEP are fiscal years ending June 30) an additional 87MW hydropower capacity was to be created by commissioning four projects that include Jagran-II (48MW), Ranolia (17MW), Karora (12MW), and Jabori (10MW). These three small power stations are already generating electricity. But, the medium-sized Jagran-II has been long delayed, and there is no firm date yet for its achieving commercial operations. Construction of Jagran-II, located in the Azad Jammu & Kashmir (AJ&K), had started in October 2016. Thus, there is already a shortfall of 48MW in hydropower generation capacity for 2022 that would be carried forward to year 2023 or even beyond, given the present slow progress on this project.
According to the IGCEP projections, there would be an addition of 873MW hydropower capacity during 2023. List of these on-going projects includes Karot (720MW), Gorkin Matiltan (84MW), and Lawi (69MW). Karot project at River Jhelum is first hydropower project being developed under China-Pakistan Economic Corridor (CPEC) programme. It is in advanced stage of completion and is likely to be commissioned within few months. Status of progress on other projects however is not satisfactory. Contract for Gorkin Matiltan project in Swat District was awarded in November 2016. It was scheduled for commissioning in 2020 but has been delayed and is not expected to be commissioned even next year. Likewise, construction of Lawi hydro project near Chitral city was started in November 2016, and it was scheduled for commissioning in five years. Seemingly, the project will not be completed soon as its physical progress at site is hardly 47 percent till now. Therefore, 153MW will not be added to power generation capacity in 2023.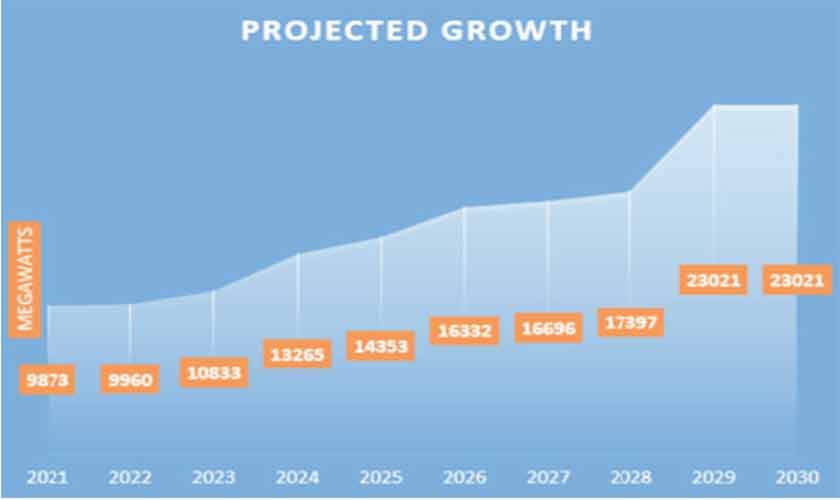 The plan has considered 2,432MW to be added to national grid during 2024, but none of the projects is expected to be commissioned during the year. Committed projects are Tarbela 5th extension (1,530MW), Suki Kinari (884MW), Chappari Charkhel (11MW) and Riali- II (7MW). Contract for electromechanical works for Tarbela 5th extension was awarded in June 2021 and therefore the project will not achieve commercial operations in 2024 as envisaged. Interestingly, target timeline for Tarbela 5th extension has already been revised to May 2026.
Suki Kinari, another CPEC project, is in advanced stage as its civil and electromechanical works are progressing well. So far 70 percent physical progress has been achieved on project, but its completion by December 2022 is not foreseen. Chappari Charkhel project in Khyber Pakhtunkhwa (KP) was approved in March 2019, but construction contract has not yet been awarded. Hence, project would not be online by 2023-24. Private sector project Riali-II in AJ&K has also run into snags as it is unable to arrange financing due to non-availability of security documents from the government. It is the first small hydropower project being developed under Private Power and Infrastructure Board (PPIB) portfolio.
The plan projects that another 1,088MW hydropower generation capacity will be added to the system in 2025. Hydropower projects scheduled for commissioning during the period are Dasu-I (first unit of 1,080MW) and Kathai-II (8MW). Dasu of total 4,320MW capacity is being implemented by WAPDA in two phases. Dasu-I consists of two units of 1,080MW each. Work on the project commenced in June 2017 but was suspended in July 2021 due to terrorists' activities in the area, and construction work has resumed recently. While progress on its infrastructure is well-advanced, there is just 15 percent physical progress achieved on construction of power station. Given present pace of work it is not likely that the project would generate electricity as scheduled. Kathai-II, located in AJ&K, is being developed in private sector, and its financial close is expected shortly.
In view of foregoing there will be major deficit in projected additional hydropower generation capacity totaling 14,353MW by end of mid-term period of the plan. Obviously, this will have a multiplier effect on total electricity available from all resources causing major load shedding in the country if corrective measures are not adopted in time. NTDC is mandated to periodically review the IGCEP, and this is the time that the document should be revised seeking updated inputs about present status of projects.
Unfortunately, the situation during second-term period of the plan (2026-2030) is also not rosy. Hydropower installed capacity of 1,979MW is to be added during 2026 as major hydropower projects namely Dasu-I (second unit of 1,080MW), Mohmand Dam (800MW) and Keyal Khwar (first unit of 64MW) are scheduled to achieve commercial operations, besides Harpo of 35MW. Nonetheless, present status of development of these projects does not provide confidence for attaining targets. Dasu-I project has been discussed above.
Contract for Mohmand dam and hydropower project was awarded in March 2019, and physical progress is as per scheduled milestones. It is expected that the power station will be commissioned in 2026 (December 2025), though its present progress is around 10 percent only and Islamic Development Bank has signed framework agreement on March 21 this year to provide $180 million loan for project. WAPDA's Keyal Khwar 128MW project in the KP province is still at initial stages. Contract for its civil works was terminated in December 2017 and retendering is still in process. Estimated completion period is four years after award of contract. Survey and investigation reports have been prepared by the consultants for WAPDA's Harpo project but no preparatory work for issue of tenders has been initiated yet.
In 2027 two projects, namely Balakot (300MW) and Keyal Khwar (second unit of 64MW), are scheduled to achieve commercial operations, adding total 364MW to the system. Status of Keyal Khwar project has been discussed.
Contract for construction of Balakot project in Mansehra District has been signed on March 8, 2021, and it is scheduled for commissioning in six years. Azad Pattan (701MW) on Jhelum River, a CPEC project, is scheduled for commissioning in 2028, but it has not yet achieved financial close, and construction contract is not awarded. Kohala (1,124MW) and Diamer Basha (4,500MW) are scheduled for completion by July 2028 and February 2029, respectively. These two projects will add 5,624MW hydropower capacity by 2029, bringing hydropower generation capacity to total 23,021MW by 2030 at end of the long-term plan.
Contract for construction of Kohala, another CPEC project, was signed in January 2017, but there is no physical progress since project has not achieved financial close. Construction of main dam works for mega Diamer Basha project is underway, having achieved 7 percent physical progress. It is due for completion in 2029. But it will not generate electricity by then as preparations for construction of powerhouse are not in sight.
Tenders for electromechanical works are yet to be finalised, and financing for this phase of project is not yet available. Technically, construction of Diamer Basha's underground powerhouse is as complex, if not more, as that of Neelum-Jhelum hydropower project that took almost eleven years to complete. The scope of the first phase of the project however covers construction of a 21MW Tangir hydropower project, which would provide electricity at site during construction phase.