Growatt, a global leading distributed energy solution provider, has recently showcased its all-scenario solutions at the Solar Pakistan 2023. The company demonstrated its commitment to providing comprehensive and sustainable energy solutions by showcasing its on-grid and off-grid solutions, EV chargers, pump inverters, and portable power station that can be tailored to Pakistan's applications and scenarios.
The SPH hybrid residential energy storage solution was a major highlight of the exhibition, including the SPH 3000-6000TL BL-UP, SPH 10000TL-X Single-phase models, and SPH 4000-10000TL3 BH-UP three-phase models, as well as the compatible ARK LV and ARK HV lithium batteries. The whole system comes with the ATS (Automatic Transfer Switch) function that simplifies wiring process and makes installation easier. Furthermore, the SPH hybrid inverter supports connecting to Growatt ARK lithium-ion batteries or third-party lead-acid batteries, providing customers with more battery options that best suit their needs and preferences. The system with monitoring and remote firmware upgrade's ability can easily monitor the performance of their solar installations in real-time and reduce the need for on-site support and maintenance.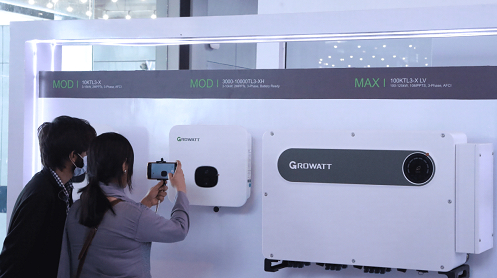 The company also presented its battery ready inverters for residential solar + storage: the MIN 2500-6000-XH single-phase inverter and MOD 3-10KTL3-XH three-phase inverter, both of which have a battery interface that allows easy extension from on-grid solar system to energy storage system, offering customers greater flexibility and fewer initial investments. With regard to performance, the battery ready inverters are set with full nominal power export to the grid plus full nominal power battery charge at the same time. For example, a MOD 10KTL3-XH inverter can provide 10 kW full power output plus 10 kW full power battery charge simultaneously, doubling the productivity of the system. What's more, it's DC/AC ratio is as high as 2, and with dual MPP trackers and high string current, making it a good match with 500W+ high-power modules.
Growatt also introduced its powerful ongrid inverter MAX100125KTL3X designed for C&I use. With a maximum input current of each string of 16A, it matches well with 600W+ high power and bifacial modules. The inverters' 10 MPP trackers support 20 strings connection at most, which significantly reduces the energy loss caused by shadow effect and module mismatch. System safety is always put first, and MAX 100-125KTL3-X is with Type II SPD on DC&AC sides, fuse-free design, integrated DC switch, IP66 protection as well as optional active arcing protection (AFCI) and built-in PID recovery to provide all-round protection for the inverter and even the whole PV system.
Additionally, we signed a 300MW MOU with AGN Solar, one of the region's largest distributors, to supply our on-grid and hybrid inverters to Pakistan market. This deal will help to meet the market demand for reliable and advanced clean energy products and solutions, especially for the residential energy storage market.
Growatt will continue to develop innovative and high-quality PV products and solutions tailored to the specific needs of the Pakistani market, which helps to support the country's renewable energy goals and drive progress towards a greener Pakistan!