SolaX Power, a renowned player in the photovoltaic industry, successfully hosted its highly anticipated Global Partner Summit 2023 in Tonglu, Hangzhou. More than 150 distinguished guests from over 30 countries joined SolaX Power in sharing achievements and discussing the future of solar energy. Anwar Naveed, CEO of Fronus, the most important partner of SolaX in Pakistan, was also invited to this grand event and received Global Platinum Partner Award.
Established in 2012, SolaX has become a leading provider of solar inverters and energy storage solutions. Over the years, SolaX has been committed to technological innovation and product quality, contributing significantly to renewable energy development worldwide. With a solid reputation, its products have been widely adopted in over 80 countries and regions globally.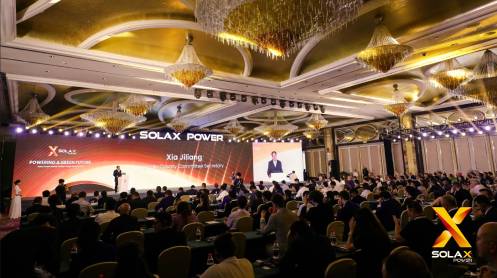 SolaX Power Global Partner Summit 2023 featured high-level keynote speeches and seminars, sharing the latest industry trends and frontier technologies to inspire innovation and collaboration. Moreover, it also encompassed various impressive activities. Factory tours provided SolaX's partners with an up-close understanding of SolaX's production processes, quality control systems, and ongoing research and innovation. The brand-new exhibition hall showcases SolaX's complete product line-up and diverse application scenarios, featuring a VR zone that allowed guests to explore different possibilities.
To express gratitude to its esteemed partners, SolaX prepared an elaborate gala dinner, providing a relaxed and enjoyable social platform. The Chinese-style performance specially prepared for international guests received high praise. Furthermore, a full-day tour of Hangzhou allowed first-time visitors to China to appreciate its splendid natural scenery, leaving a lasting impression.
This event proved to be a fruitful experience for all participants. Global partners gained insight into the strength of SolaX's solar inverter technology and its value in partnerships, while SolaX obtained valuable knowledge of its partners' needs and expectations through direct interactions.
Looking ahead, SolaX Power will continue to focus on technological innovation and product optimization, with a dedication to providing customers with reliable, efficient, and intelligent solutions. Furthermore, SolaX will strengthen its collaboration with its global partners and build an open and win-win partnership. SolaX is poised to contribute to a brighter and cleaner future for the global energy landscape.
For more information about SolaX's solar technologies, please contact info@solaxpower.com or info@fronus.com