The year 2020 has not been kind to most sectors of the economy, what with the double whammy of a global pandemic and the ensuing global recession. Yet, all things considered, it is remarkable that power generation in Pakistan actually fared alright, declining only marginally when comparing fiscal year 2020 to 2019. Even better, demand for power has picked up in June 2020, according to Sunny Kumar, analyst at Topline Securities, in a note sent to clients on July 23.
Power generation in Pakistan declined by 1% year-on-year to 121,867 gigawatt-hours (GWh), or 23,618 megawatts (MW) during fiscal year 2020. In 2019, power generation stoof at 122,708 GWh, or 23,781 MW. Most of this decline can be attributed to the overall slower economic activity during fiscal year 2020, leading to less usage of power, but also the specific time period between March and May 2020, when the Covid-19 necessitated lockdowns and restrictions.
The lockdown's effect can also be seen in the monthly data from this year. In March 2020, power generation fell 9% year-on-year to 6,911 GWh, compared to the 7,621 GWh recorded in March 2019. This was also the lowest generation recorded in 2020. Though power generation picked up in subsequent months, on a yearly basis it was still falling, such as in April 2020, where power generation fell 14% year-on-year, and in May 2020, where power generation fell by 5% year-on-year.
However, starting in June 2020, power generation was recorded at 13,288 GWh, which is a 1% year-on-year increase from the 13,157 GWh recorded in June 2019. Even better, it was almost double that of the figure in March 2020 (at 92%). The sector itself is also doing better, with the installed Capacity in the country touching 34,157MW in June 2020, compared to the 30,590 MW of installed capacity in June 2019.
In fact, these factors together mean that the power sector is well positioned in the future for any increase in demand. And demand will increase, as industries have opened up after the lockdowns imposed due to the Covid-19 pandemic, and there has been a pick up in economic activity in the country. The summer and monsoon seasons also typically see an uptick in demand for power, which will help the sector at least until October 2020.
The fiscal year 2020 was marked by a move towards hydropower and coal based power generation, over gas and furnace oil. Hydel power made up 32% of total power in fiscal year 2020, compared to 26% in 2019, while coal's share went up from 13% in 2019 to 21% in 2020. Gas generated power's share however, fell from 18% in fiscal year 2019 to 12% in fiscal year 2020, while furnace oil's share fell from 7% last year to 3% this year. RLNG, or regasified liquefied natural gas, contributed 20% to the overall power mix, nuclear generation took up 8%, wind-based power took up 2%, while 'other' (solar, bagasse) took up 2%.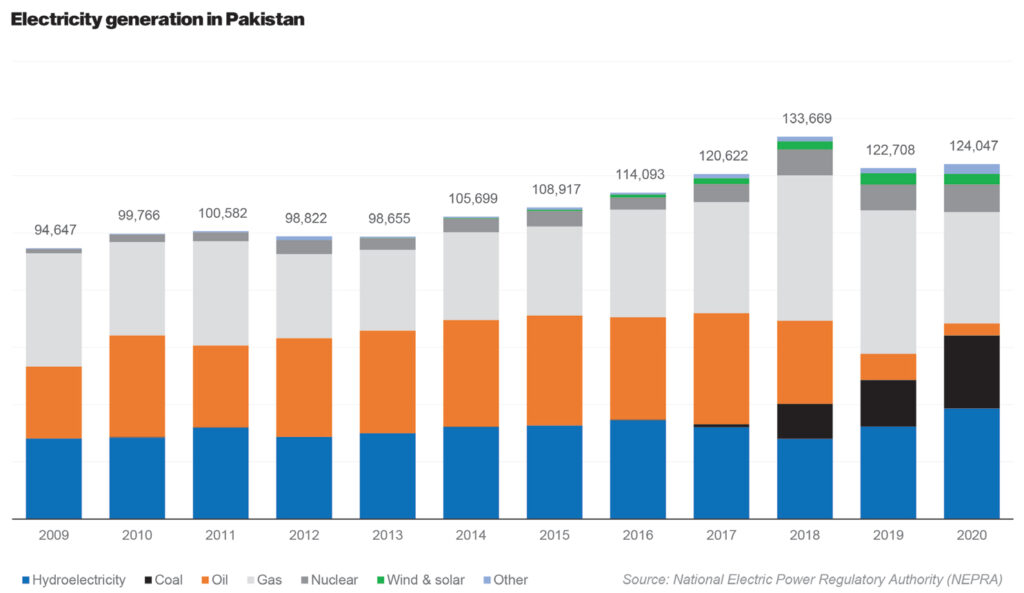 In terms of power generation, hydel generation went from 32,356 GWh in fiscal year 2019, to 38,000 GWh in fiscal year 2020, or a 20% year-on-year jump. According to Kumar, hydel power generation increased because there was more water available this year compared to previous years. Incidentally, this particular statistic was recently picked up by Asad Umar, the Minister for Planning, Development and Special Initiatives, who tweeted: "Massive hydel capacity increase taking place with Dasu, Mohmand and Diamir Basha being built. We need to rely on local renewable energy instead of expensive imported thermal fuels."
Coal power generation went up from 16,312 GWh in 2019 to 25,553 GWh in 2020, a massive jump of 57% year-on-year. This section has increased because of two new projects finally commencing this fiscal year: the China Hub Power Generation, with production of around 1,220 MW, and Engro Powergen Thar, which can produce 660 MW.
Meanwhile, furnace oil generation went from 9,092 GWh in fiscal 2019 to 4,178 GWh, or a fall of 54% year-on-year. Similarly, gas generated power went from 22,034 GWh last year to 15,064 GWh this year, or a decline of 15%. According to Kumar, the demand for both fell because of their higher costs of producing power demand.
Despite talk of focusing on renewable energy (for example, the central bank expanded its refinance scheme for solar and wind energy plants just this week), both solar and wind generated power fell in fiscal year 2020. Wind generated power fell 11%, from 3,232 GWh in 2019 to 2,822 GWh in 2020. Solar generated power fell by 1%, from 715 GWh in 2019 to 705 GWh in 2020.
One unexpected benefit of the power mix is that it is now cheaper to produce electricity this year than it was last year. The average fuel cost fell by 3% year-on-year to Rs5.97 per KWh in fiscal year 2020, compared to Rs6.13 per KWh in fiscal year 2019. This is because generation via hydropower increased by 20% year-on-year, which has no fuel cost. Also coal based generation benefited from lower coal prices in general, with the cost coming out to Rs6.1 per KWh in 2020, compared to Rs6.55 per KWh in 2019. This trend is expected to continue, considering the country's power mix.