Pakistan is set to become the world's 23rd biggest economy by 2040 based on its predicted gross domestic product (GDP) rank which currently sits at 39th position, according to a United States intelligence report, which is issued every four years.
The assessment was included in this year's Global Trends report by US National Intelligence Council (NIC), which is designed to help policymakers and citizens anticipate the economic, environmental, technological and demographic forces that are likely to shape the world through the next 20 years.
"Our intent is to help policymakers and citizens… prepare for an array of possible futures," the authors wrote, noting they included input from diverse groups, from American students to African civil society activists.
Global economic activity has been tilting toward Asia during the past 40 years, reflecting its higher rate of economic growth in comparison with the rest of the world, large population, and reduction in grinding poverty — a trend that almost certainly will continue through at least 2030 and perhaps through 2040," the report said.
It said that some of the most populous countries in Asia are positioned to be among the world's largest economies by 2040, even as their per capita incomes lag behind that of advanced economies.
"Asia's record growth during the past 40 years has resulted in a convergence between Asian standards of living and those of middle and even high-income economies," the document stated.
In 2020, China and other developing Asia countries contributed 18 per cent and 7 per cent respectively to global GDP. "If these trends continue, by 2040 developing countries in Asia are projected to account for approximately 35 per cent of global GDP, with India and China as the largest contributors at 29 per cent of global GDP," the report quoted Oxford Economics.
It said that the faster economic growth in Asia could lead to some of the most populous countries being among the world's largest economies by 2040. "For example, faster economic growth in India — on track to be the most populous country by 2027 — could propel the country into the ranks of the world's three largest economies," the report stated.
Similarly, it said, faster growth in Indonesia — the world's fourth most populous country — could allow it to break into the ranks of the top 10 economies by 2040
However, the reported added, their standards of living or per capita GDP are likely to remain well below those of advanced economies.
Pakistan likely to be below median age threshold in 2040
The report said that during the next two decades, most countries with large youth populations will be challenged to meet the basic needs of their populations, particularly in light of the social volatility often associated with youth bulges.
"In Sub-Saharan Africa, the median age is likely to rise only slightly to 22 by 2040, still well short of the median age threshold of 30 which is often associated with higher levels of human development."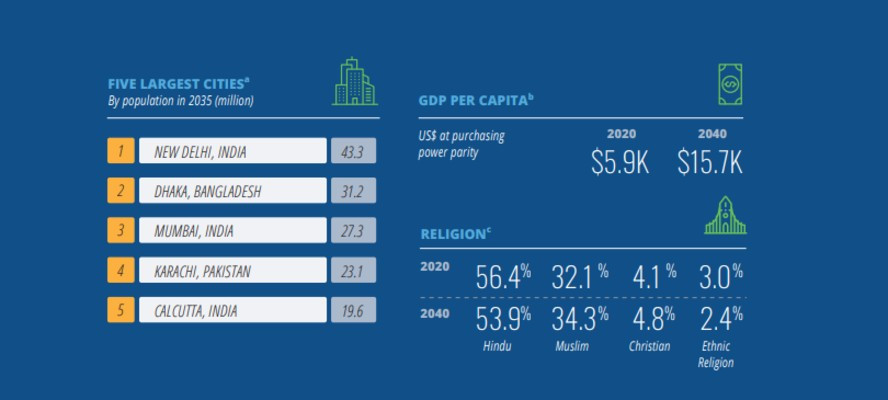 It said that more than one-third of Sub-Saharan Africa's population will be younger than 15 in 2040, compared with only 14 per cent of the population in East Asia.
"Other populous countries that most likely will still be below the median age threshold in 2040 are Afghanistan, Egypt, and Pakistan," the report added.
Climate change, rich-poor gap, conflict likely to grow
The report said that disease, the rich-poor gap, climate change and conflicts within and among nations will pose greater challenges in coming decades, with the Covid-19 pandemic already worsening some of those problems.
It said that the rivalry between China and a US-led coalition of Western nations likely will intensify, fuelled by military power shifts, demographics, technology and "hardening divisions over governance models."
Regional powers and non-state actors may exert greater influence, with the likely result of "a more conflict-prone and volatile geopolitical environment" and weakened international cooperation, it said.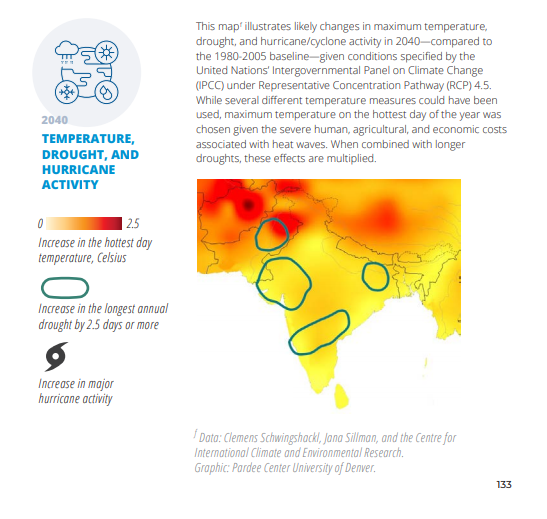 Challenges like climate change, disease, financial crises and technological disruption "are likely to manifest more frequently and intensely in almost every region and country", producing "widespread strains on states and societies as well as shocks that could be catastrophic", the report said.
It said the coronavirus pandemic that has killed more than three million people marked the greatest "global disruption" since World War Two, with the consequences likely to last for years.
Covid-19, it said, exposed – and sometimes widened – disparities in healthcare, raised national debts, accelerated nationalism and political polarisation, deepened inequality, fuelled distrust in government and highlighted failed international cooperation.
In the process, it is slowing – and possibly reversing – progress in fighting poverty, disease and gender inequality.
Many problems caused by the pandemic are forecast by the report to grow by 2040.
"There is a certain set of trends that we've identified that seem to be accelerating or made more powerful because of the pandemic," said an NIC official, speaking on condition of anonymity.
The report posed five scenarios for what the world might look like in 2040.
The most optimistic – a "renaissance of democracies" – found that democratic governments would prove "better able to foster scientific research and technological innovation, catalysing an economic boom," enabling them to cope with domestic stresses and to stand up to international rivals.
The most pessimistic scenario – "tragedy and mobilisation" – posited how Covid-19 and global warming could devastate global food supplies, leading to riots in Philadelphia that kill "thousands of people".
'Covid-19 has shaken long-held assumptions'
The report said that Covid-19 has shaken long-held assumptions about resilience and adaptation and created new uncertainties about the economy, governance, geopolitics, and technology.
The document finds cause for concern in virtually all aspects of life. "Advances in technology have the potential to address problems including climate change and disease, but can also provoke new tensions," the report added.
The report also warned of eroding trust in government and institutions and of a "trust gap" between the general public and the better informed and educated parts of the population.